WASHINGTON

Redskins and Ron Rivera
Grade: A
This is a great hire for Washington. I didn't think the best candidate would go to the worst destination. I was shocked Ron Rivera chose the 'Skins over other teams such as the Giants or Browns. Maybe the money was too good to pass up and the opportunity to pair Chase Young with Montez Sweat is a dream come true for Rivera. The fans of Washington should be excited. Major props to Daniel Snyder in grabbing the best man for the job.
Speaking of the owner, he gave plenty of power to Coach Rivera in his "coach-centric" approach and that's a good decision. Jack Del Rio is a good choice for defensive coordinator, however, Scott Turner as the offensive coordinator may not resolve the 'Skins' issues on offense. A new era is coming to Washington and however it goes, Rivera will be very responsible of the outcome, as long as Snyder keeps his nose out of football operations, which I think he finally will.
The biggest question moving forward: is Coach Rivera sold on Dwayne Haskins? I'm not. Rivera will choose his franchise quarterback in year two of his tenure.
Ultimate outcome: Rivera stays in Washington for at least seven years, changes the culture, wins two division titles, three playoff appearances.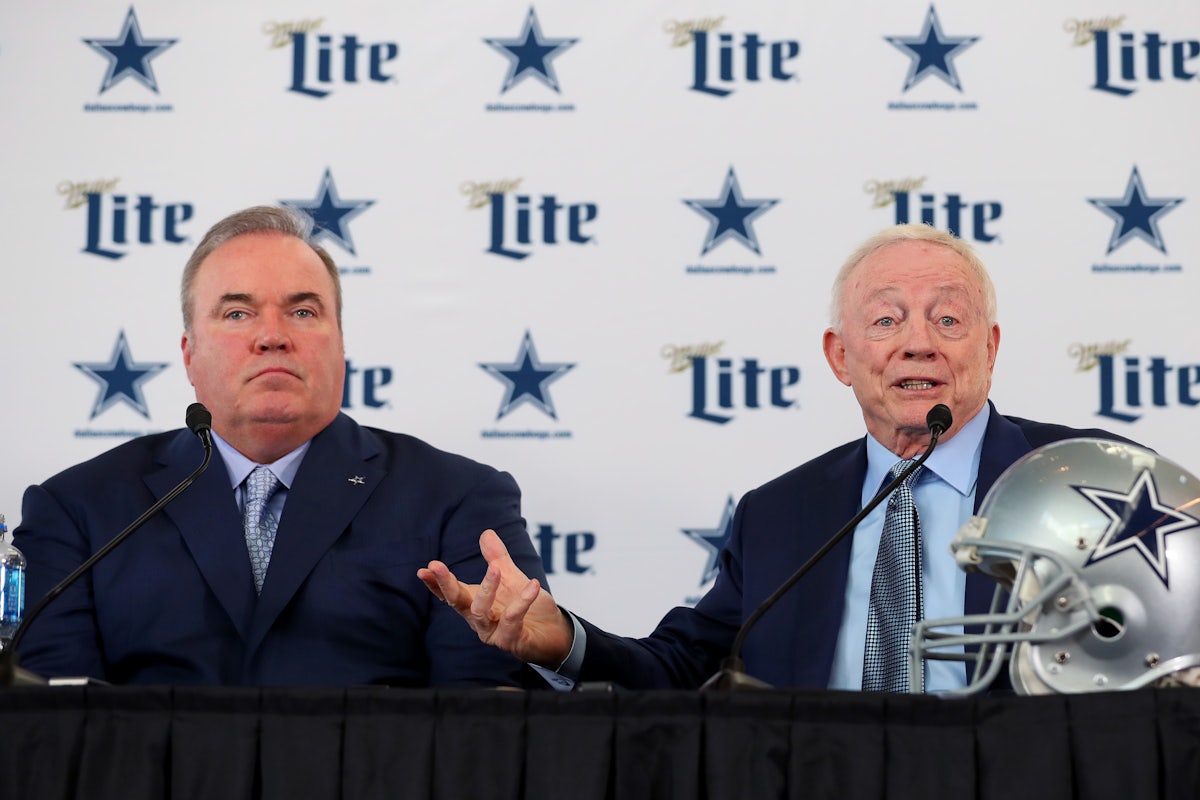 Dallas Cowboys and Mike McCarthy
Grade: D+
On paper, this seems like a great fit for both sides. However, this marriage just feels forced and that is never a good idea.
The press conference was extremely awkward at times, especially hearing Stephen Jones laugh like a hyena. The Cowboys needed someone who wasn't going to be a "yes man" to Jerry Jones and that's what Mike McCarthy is, a Jason Garrett clone without the clapping. McCarthy may be better at Xs and Os than Garrett, but only by a little bit. His success in Green Bay was due to having a great quarterback in Aaron Rodgers, who is one of the greatest players of all time.
McCarthy and the Packers missed the playoffs in his last two seasons in Green Bay with a 11-16-1 record. That's inexcusable with a legend under center. Now all of a sudden McCarthy is going to be a better coach with Dak Prescott as his quarterback? No way. Even with the talent Dallas has on both sides of the ball, the cap will not allow them to keep them together. To be fair, as long as Jerry Jones is leading the football operations, the Cowboys will never win a Super Bowl.
Ultimate outcome: McCarthy resigns after four years on the job. One division title, two playoff appearances, zero playoff wins.
Carolina Panthers and Matt Rhule
Grade: B
I thought it was a bad decision by Carolina to fire Ron Rivera. His team was playing pretty well with a bad quarterback and it seemed like the team never quit on its coach. However, the Panthers owner wanted to bring in his own guys, which is understandable.
The money Panthers owner David Tepper had to pay to bring Matt Rhule to Carolina is rumored to be close to 80 million dollars when adding together the contract, the incentives, and the buyout. That's an insane amount of money to invest in a college coach who has one year of experience in the NFL. I applaud Mr. Tepper for taking a chance on a coach who is known for building teams from the ground up. That's what Matt Rhule did with Temple and Baylor—he knows how to build a football team.
Nowadays, owners are often impatient of its football brass to build a winning team. It's going to take a few years to get the Panthers where they want to be, and it starts with finding a new franchise quarterback. Coach Rhule has to move on from Cam Newton and find his own signal caller. Carolina would be foolish to try to revitalize Newton's career. Bringing in Joe Brady to lead the offense should be interesting, maybe the Panthers will trade up for Joe Burrow? Probably not.
Ultimate outcome: Matt Rhule stays in Carolina for 10+ years, drafts Trevor Lawrence in 2021, wins five division titles, three playoff wins.
New York Giants and Joe Judge
Grade: C+
The Giants are taking a huge risk in hiring Joe Judge, a guy who has never been a head coach at any level of football. For some reason, this seems like a good hire for the Giants. But then again, Dave Gettleman is still at the helm and controlling the personnel department. As long as Gettleman is in New York, the Giants have no hope. However, Giants fans should be excited about Judge and maybe he can outlast Gettleman. And for goodness sake, they should not hire Jason Garrett as offensive coordinator. Judge should surround himself with coaches who have head coaching experience, but Garrett shouldn't be the guy.
How about Wade Phillips to lead the defense and allow to continue the role he had when Sean McVay hired him in Los Angeles? Judge is a no-nonsense type of coach and that's what the Giants need—"a nice kick in the ass." The team is 51-77 with one playoff appearance since 2012. Coach Judge comes from the Patriots, a winning organization, and his side of the ball (special teams) has been one of the best in the past eight years. Special teams coaches have to be motivational and after listening to Judge speak at his introductory press conference, he certainly can do that. He's got the Philadelphia grit, he's an old school coach, and he's won multiple championships on the college and pro level as an assistant. This may turn out to be a good hire, it all depends on the development of Daniel Jones.
Ultimate outcome: Gettleman gets fired after the 2020 season, Judge coaches the Giants for at least four seasons with two playoff appearances.
Cleveland Browns and Kevin Stefanski
Grade: B-
Kevin Stefanski doesn't strike me as a coach, his demeanor and persona is more so of a general manager. However, listening to Coach Stefanski speak, it's obvious he's very smart and knowledgeable about the game. The Browns needed a coach who can change the culture, and one who can gain the respect of the players. Stefanski can do both. He was an offensive coordinator for 20 games, which is a concern, but if he's not calling the plays in Cleveland, it won't matter how many games he's been the play caller. In fact, Stefanski said at his press conference he hasn't decided whether or not he's going to call the plays, but my guess is he will. It's going to be his system the Browns will be implementing, Stefanski would be bold to have someone else call the plays. The best part about Stefanski is the amount of head coaches he's worked for in his 14 years in Minnesota. He's been in a lot of systems, he's seen a lot of different offenses, he has experience with different coaching styles, he rose up the ranks on the coaching ladder– he's a grinder.
Since officially taking over the Browns seven games into the 2012 season, Haslam has had six head coaches and a 21-75-1 record as team owner. Kevin Stefanski will be the team's seventh head coach and the last one for a while. The city of Cleveland probably doesn't have much confidence in its newest coach, but they should be excited. Stefanski will bring stability, discipline, and a scheme that Baker Mayfield will thrive in.
Nick Chubb should be the happiest player of the bunch, he's going to be the bellcow and carry the load for this offense. Under Stefanski's leadership, the Vikings offense in 2019 ranked 4th in the league in rushing attempts, 6th in rushing yards, and 6th in rushing touchdowns. Stefanski loves to run the ball, which will take a lot of pressure off Mayfield.
The biggest issue moving forward is the offensive line for the Browns. In 2019, the Browns could not protect Baker Mayfield, contributing to his struggles throughout the season. For Coach Stefanski's scheme to thrive, the Browns front office, who ever gets the GM job, has to sure up the offensive line.
Ultimate outcome: Kevin Stafanski stays in Cleveland for at least five seasons, win two division titles, three total playoff appearances.