It was the second quarter of the College Football Playoff Semifinal Game in 2020. Justin Fields is escaping pressure and gets walloped by Clemson linebacker James Skalski. The play is deemed targeting and Skalski is ejected. Fields, clearly in pain, lights Clemson up for 22 of 28 passes for 385 yards and six touchdowns in a riveting 49-28 victory. That's a slight glimpse into Fields. The toughness, character, and heart are more poignant than his talent, delivered weekly throughout his time at Georgia and Ohio State. He's set to be in the NFL Draft in 2021, and while the '21 class is loaded at the quarterback position, he will end up being the best out of the class when it's all said and done.
Fields ability to throw the ball down the field in a variety of different ways is extraordinary. He can deliver passes between the hashes and put some loft on the ball and send it deep. Even with his immense arm strength, he shows the ability to put touch on the ball, which makes it much easier for his receivers to reel catches in. Another dynamic of Fields arm strength is the accuracy that comes with it. In 2019, he noticeably struggled with precision for most of the season when his timing was off. In 2020, we saw a vast improvement in ball placement, which led to fewer mistakes and Ohio State could open the playbook even more. Even in the two games he struggled against Indiana and Northwestern, it was more because of decision-making than accuracy.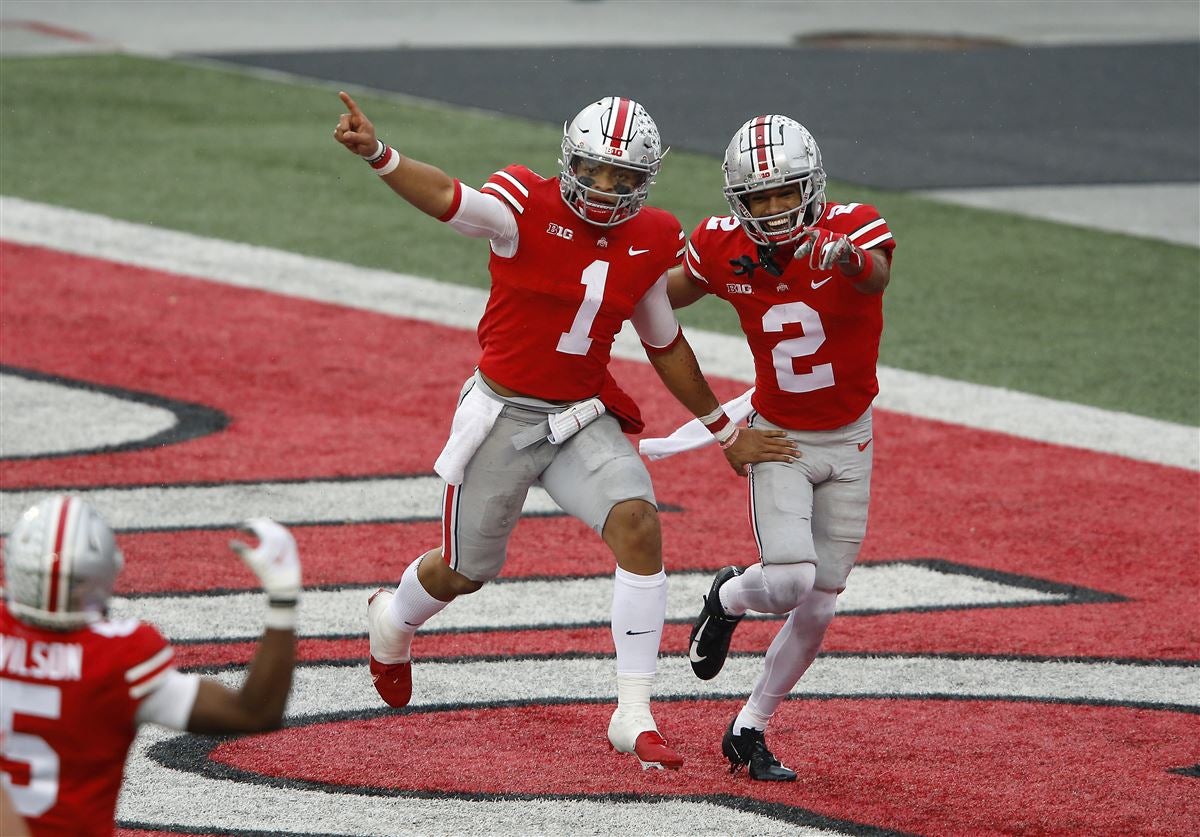 Timing is crucial to his skillset. Throughout his career, it's been what makes or breaks his game. In the 2020 Big Ten championship game against Northwestern, Fields struggled with timing and as a result, he had a brutal game. Besides that, his junior campaign was filled with precision passing that was on time. There was noticeable difference in his vision especially down the field compared to his 2019 season. Fields threw bullets into tight windows even while the receiver was in his stride, which is about as hard a throw to make in football. Those will be the kind of plays he needs to make at the next level, as separation from cornerbacks is not as easy to come by in the National Football League as it is in college football.
His timing has assisted his vision on the field. Fields is often criticized in the media for sticking on one receiver with his eyes, resulting in sacks and interceptions. His field vision could be something that is questioned by NFL scouts, and it's been a frequent flaw in his game. The work in the 2020 offseason showed up on tape. Fields was more active at the line of scrimmage, and there was noticeable blitz pickups and changes at the line. In turn, Fields was more confident in his vision, and increased his ability to scan the field. Ohio State head coach Ryan Day mentioned how much time he spent in the film room with his quarterback in the offseason after the Buckeyes 2019 College Football Playoff loss to Clemson. Fields threw an interception late in the fourth quarter of that game to seal the win for Clemson. With coach Day's NFL background, we can assume Day has been mentoring Fields and preparing him for the next level. That kind of professional influence can be hard to get at some programs in the college ranks, and it showed through Fields ability to correct 2019 mistakes in 2020 play.
Composure is crucial for a quarterback. It can mean several things, but for one, keeping your eyes down the field while sensing pressure is so important and an accurate measure of a quarterbacks composure. Fields composure greatly improved throughout the 2020 season, and it was a big reason the Buckeyes made it to the National Championship. Fields showed great composure in that game against Alabama, as the Crimson Tide defense came fast and heavy on their blitz packages, frequently causing confusion among the Buckeye front.
At the next level, composure can be why most quarterbacks don't last more than a year. It's important not to abandon the passing game and start running as soon as you see pressure. A receiver could get open as soon as you abandon the pass, and then you risk losing yardage instead of a positive throw to a receiver. Simply throwing it away is also a good measure of composure, especially when there is no one open. Losing yardage because you hold the ball for too long is a mistake that young quarterbacks can make.
While he may not be quarterback one on most big boards, Justin Fields has shown significant improvement in his career, especially the last two seasons, which is reason to believe he's coachable and willing to learn from his mistakes. There's a good chance an NFL head coach sees that and falls in love with his game.
Arm strength, composure, and timing apply to current NFL stars like Patrick Mahomes, Deshaun Watson and Aaron Rodgers. Not that Fields is already at that level, but it shows how critical those traits are for an NFL quarterback to have. It's plausible that Fields can have that type of career as a pro. Traits are essential when you're scouting a player because there is so much interference like game plan and teammates in the college game. Fields continued to show how he's excelled at those crucial skills in his collegiate career.
No matter where he is drafted, Fields needs to be in a system designed to get the most out of his strengths, much like Trevor Lawrence. Allow him to utilize both his arm strength and running ability, with lots of RPO and a deep passing game. If a team does that, he has the chance to explode in his rookie season and beyond that. Besides the system, Fields has shown the ability to make plays on his own, which elite quarterbacks desperately need to do when things aren't going the team's way. Building around him will be crucial to his success but his dynamic playmaking ability can be prevalent in the ever-evolving NFL game.
The 2021 NFL draft is set to take place from April 29th till May 1st.