Throughout my entire life, I have never seen a single player, in any sport, get overhyped the way Tim Duncan does. He is the most overrated player in sports history.
Duncan epitomizes, not only being boring, but being overvalued in the fullest sense.
Before I get into it, let me say first, I respect Tim Duncan. I obviously don't know him as a person, but I do admire his unselfishness on the court and his high basketball IQ.
Duncan is not a power forward, he is a center that plays at the four. He played PF because his Hall of Fame teammate (one of many), David Robinson, played center. Some say Duncan never wanted to fully embrace the center position because he was too scared to match up against Shaquille O'Neal, but that's just a rumor.
When Duncan arrived in the NBA, he landed in the PERFECT SITUATION. The Spurs, a great team prior to adding Duncan, dealt with a lot of injuries the previous season and got super lucky in the draft lottery, which ultimately allowed them to draft Duncan at No. 1 overall.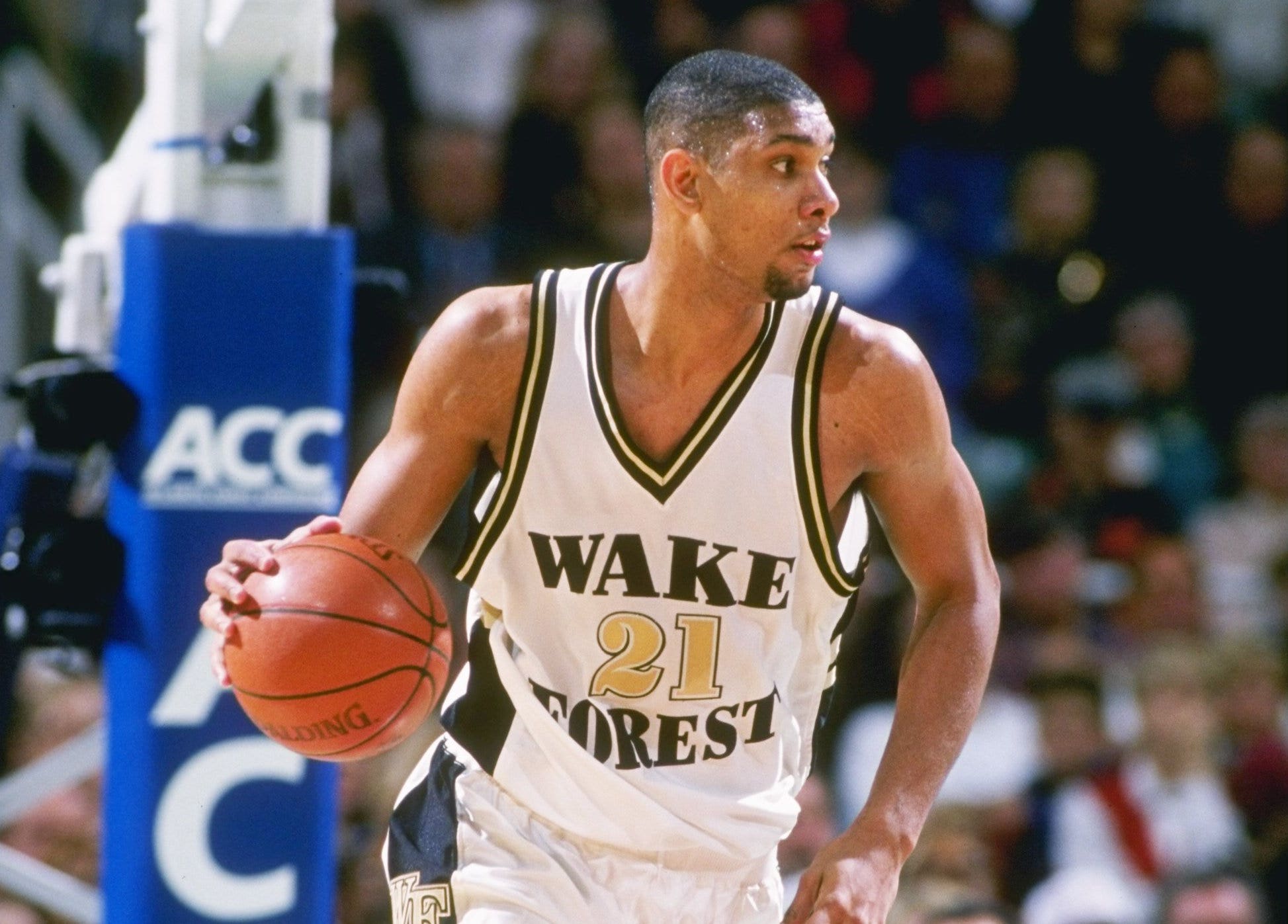 Fans and the media often overlook what Duncan had to work with. In his first season in San Antonio, Duncan played alongside Hall of Famer David Robinson and very solid players in Vinny Del Negro, Sean Elliott, and Avery Johnson. Let's not forget the coach he had, Gregg Popovich, who is in the Mount Rushmore of NBA coaches. That squad is the best team any No. 1 overall pick has ever stepped foot in.
In 1998 when the Spurs and Tim Duncan captured their first NBA Championship, the team was stacked with guys such as Antonio Daniels, Mario Elie, Steve Kerr, Sean Elliott, Jerom Kersey, Avery Johnson and David Robinson. All I ever hear from everyone when talking about that team is how great Tim Duncan was, as if he was out there by himself.
By 2003, the year San Antonio won its second NBA Finals, the Spurs had three Hall of Famers on its roster other than Tim Duncan: David Robinson, Tony Parker, and Manu Ginóbili. They also had a great supporting cast in Bruce Bowen, Stephen Jackson, Steve Kerr, Steve Smith, and Malik Rose. Those aren't scrubs, people!
Without going through every single championship roster Duncan was on, it should not be forgotten that Duncan played with Hall of Famers, in every single season of his career.
Duncan had a very strong list of teammates: David Robinson, Tony Parker, Manu Ginóbili, and Kawhi Leonard. Again, these are Hall of Famers, that Duncan was very fortunate to play with, and that doesn't get talked about enough!
Tony Parker was the 2007 NBA Finals MVP, Kawhi Leonard was the NBA Finals MVP in 2014 and was the NBA's defensive player of the year in 2015 and 2016. Ginóbili is one of the clutchest players of all time.
Let's go back to 2013, in the NBA Finals, the San Antonio Spurs versus the Miami Heat.
With less than 50 seconds left in game seven of the NBA Finals, the Spurs were down 90-88, and Tim Duncan missed a game-tying layup over Shane Battier.
https://twitter.com/Eaglesfans9/status/1261040879231471618
Embarrassing, isn't it? If Tim Duncan is a top 10, top 20 player of all time, he has to make that layup!
I hate calling players "system guys" but that's exactly what Tim Duncan is. There is nothing wrong with being a "system guy" but players like that should not be considered along the lines of Kevin Garnett, Charles Barkley, and Dirk Nowitzki, who are all time greats at the power forward position.
The credit that Duncan gets without mentioning personnel aficionado R.C. Buford or Coach Popovich is nauseating, as the Spurs front office is undoubtedly the best front office in the past two decades. They were able to bring in the right guys to San Antonio and maintained a stable organization for twenty years. No other player in NBA history has ever had that type of power and stability behind them before, not even Michael Jordan.
As I mentioned before, Duncan has a very high basketball IQ and is an unselfish player, a solid passer of the ball, knows where to be on offense and defense, but physically, what does he do that's great?
Now this bothers me a lot about Duncan: the rest, the breaks, the time off he got in his career. Why does he need all of that rest? If he's one of the greatest of all time, he shouldn't need all of that time to snooze. By doing that, Coach Pop is admitting they don't need Duncan to win games.
Let's no longer forget what Duncan was working with his entire career. He was extremely lucky, had a lot of breaks go his way, and had a ton of help surrounding him. Duncan didn't make the Spurs, the Spurs made him.
The bottom line is, Timothy Theodore Duncan is the most overrated player of all time.