*Editors Note: Part of my social distancing fun the last week has been watching draft film so it was fun to look through and study a new Mock Draft from TFC's Gianfranco Illiano below. Read it and let us know what you think! The draft is upon us. – VC http://twitter.com/cenzoNF
Cincinnati Bengals: Joe Burrow – QB – LSU
The Bengals have a ton of holes on the roster but it's time to restart the franchise with the kid who is from Ohio and who had the best single season performance college football has ever seen.
Washington Redskins: Tua Tagovailoa – QB – Alabama
Ron Rivera runs the entire operation now. He will be making the final decision on draft day and I think he decides to roll with his own quarterback. He saw what a franchise QB can do for a team when he drafted Cam Newton in 2011. Haskins will be traded down the road.
Detroit Lions: Chase Young – DE – Ohio State
The Lions front office lands the best player in the draft at third overall. If Matt Patricia doesn't screw up this cornerstone prospect, he'll be even better than what Ndamukong Suh was for Detroit.
TRADE! Giants to Dolphins. NYG receives: 1st round pick (5th overall), 2nd round pick (39th overall), 5th round pick (148th overall). MIA receives: 1st round pick (4th overall).
Miami Dolphins: Jordan Love – QB – Utah State
The Dolphins were hoping for Joe Burrow, they thought they would be able to snag Tua Tagovailoa, but they missed out on both! To avoid being leap-frogged by the Chargers or some other team, they trade up one spot to draft Jordan Love, a guy the Dolphins are very high on, according to the Miami Herald.
New York Giants: Mekhi Becton – OT – Louisville
The Giants drafting Mekhi Becton will help their previous two first-round picks in Daniel Jones and Saquon Barkley. It's a win-win for everyone.
Los Angeles Chargers: Justin Herbert – QB – Oregon
The west coast kid stays in the west coast and he couldn't be happier. Justin Herbert just looks like a Chargers quarterback.
Carolina Panthers: Isaiah Simmons – LB – Clemson
The loss of Luke Kuechly will be paramount to the Panthers because there aren't too many guys that can replace that production. Simmons can play anywhere on defense and comes from a winning culture– something Matt Rhule is trying to build first and foremost.
*Editors Note: Simmons is easily my favorite player in the draft. His speed at his size is going to translate well to the NFL. This would be a great pick for Carolina, who's defense was among the worst in the league last season. – VC
Arizona Cardinals: Jeffrey Okudah – CB – Ohio State
The Cardinals land the best defensive back in the draft and they didn't have to trade up. Who better to learn the techniques on how to be a great cornerback than Patrick Peterson?
Jacksonville Jaguars: Derrick Brown – DT – Auburn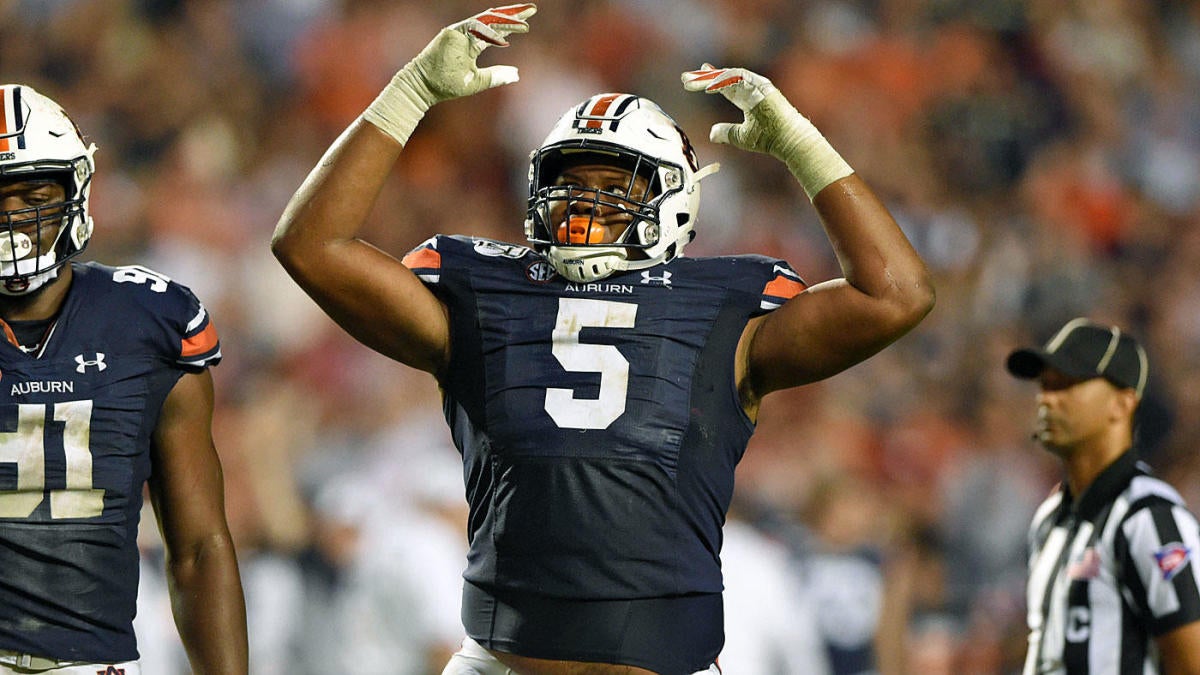 The Jaguars need to regain their defensive identity. Derrick Brown will serve as a good replacement for Calais Campbell. Some scouts believe Brown is the best prospect in the draft.
*Editors Note: Love this pick for the Jags. They are desperate for talent up front on the DL. – VC
Cleveland Browns: Andrew Thomas – OT – Georgia
Andrew Thomas was a three-year starter at left tackle for Georgia, a position the Browns desperately need. Newly signed OT Jack Conklin will take care of the right side.
New York Jets: CeeDee Lamb – WR – Oklahoma
The Jets need to give Sam Darnold some help, which they have in free agency by adding five offensive lineman. Joe Douglas' next step is to find Darnold a new weapon. Lamb is fantastic after the catch and is elite at tracking the ball in the air.
Las Vegas Raiders: Henry Ruggs III – WR – Alabama
The Raiders need speed on the perimeter and Ruggs is the fastest receiver in the draft. He should be a nice fit in Jon Gruden's offense.
San Francisco 49ers: Jerry Jeudy – WR – Alabama
With the loss of Emmanuel Sanders, the 49ers need a WR to develop a rapport with Jimmy Garoppolo. Jeudy is an elite route runner and creates excellent separation.
Tampa Bay Buccaneers: Jedrick Wills – OT – Alabama
Quarterbacks in Bruce Arians' system get sacked a lot and Tom Brady is at an age where he needs to take the least amount of hits as he can. Maybe Tampa will install a similar system Brady had in New England, but Coach Arians will definitely want to sling the ball down the field, which means Brady will have to be in the pocket a little longer than he's used to.
Denver Broncos: Tristian Wirfs – OT – Iowa
Looks like the Broncos have finally found their quarterback in Drew Lock. Now it's time to protect him.
Atlanta Falcons: K'Lavon Chaisson – DE – LSU
It seems like every year the Falcons are in the market for a pass rusher. Even with the addition of Dante Fowler, Atlanta should draft a pass rusher in round one.
Dallas Cowboys: C.J. Henderson – CB – Florida
The Cowboys need to find a replacement for Byron Jones. Henderson should be a day 1 starter for Dallas.
Miami Dolphins: D'Andre Swift – RB – Georgia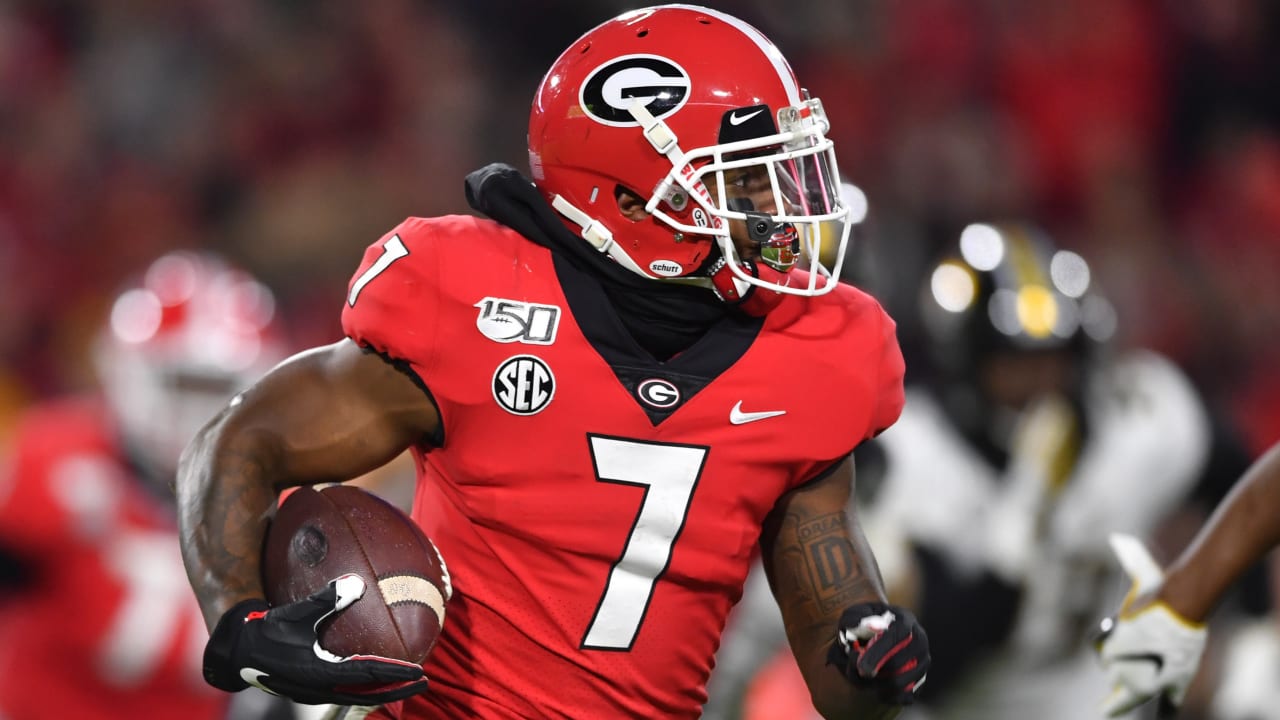 Yes the Dolphins signed Jordan Howard, but he is not a bell-cow running back. Swift will be a star in Miami. This move will pay major dividends down the road.
*Editors Note: Thought the Dolphins might go DB here, but I don't totally hate this pick because I'm high on all Georgia RB's. Sony Michel, Todd Gurley, Nick Chubb, and the list will continue. – VC
TRADE! Raiders to Vikings: LV receives: 1st round pick (22nd overall), 3rd round pick (89th overall). MIN receives: 1st round pick (19th overall).
Minnesota Vikings: Kristian Fulton – CB – LSU

Mike Zimmer loves drafting CBs. Xavier Rhodes, Mackensie Alexander, and Trae Waynes are gone. Kristian Fulton will be a starter right away.
Jacksonville Jaguars: Xavier McKinney – Safety – Alabama
Jacksonville needs everything. Plain and simple.

TRADE! Eagles to Seahawks: Eagles receive: 1st round pick (27th overall), 3rd round pick (101st overall). Seahawks receive: 1st round pick (21st overall).

Seattle Seahawks: Yetur Gross-Matos – DE – Penn State

Both teams love making trades and aren't afraid to go up and down draft boards. Jadeveon Clowney hasn't been signed yet, which means Seattle needs a pass rusher. Gross-Matos is an underrated player in this draft. He's raw, but filled with a ton of potential.

Las Vegas Raiders: Jalen Hurts – QB – Oklahoma
Don't be surprised to see Jalen Hurts go in the first round. He's rising up draft boards, Raiders aren't sold on Derek Carr, and Mike Mayock isn't afraid to draft a player early.
*Editors Note: Not sure about this one with the Mariota signing. But having 3 starting QB's on the roster sure sounds good to Gruden.
New England Patriots: A.J. Epenesa – DE – Iowa
With the loss of Kyle Van Noy, the Patriots need a starting pass rusher. Epenesa will likely go earlier than this, but this is how the board fell. Another lucky break Bill Belichick.
New Orleans Saints: Justin Jefferson – WR – LSU
Drew Brees needs all the help he can get. The Emmanuel Sanders signing was a great one, but drafting the kid who is from Louisiana and can play in the slot would be a nice complement to Michael Thomas.
Minnesota Vikings: Javon Kinlaw – DT – South Carolina
Minnesota's defense was a huge disappointment last season. Chris Spielman will be psyched to see this physical freak still on the board.
*Editor's note: This is a dream 1st round for the Vikings. Man, they loaded up on defensive talent. And still a ton of receivers to take in later rounds. – VC
Miami Dolphins: Josh Jones – Tackle – Houston
Dolphins have to protect their new franchise quarterback.
Philadelphia Eagles: K.J. Hamler – WR – Penn State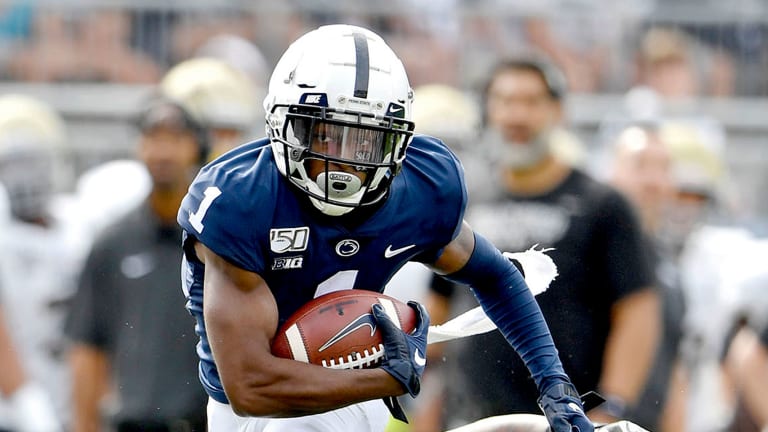 The Eagles need speed, speed, and more speed. K.J. Hamler is an excellent route runner. He is dynamic with the ball in his hands and he can make an entire defense miss. Carson Wentz needs a young weapon to rely on.
*Editors Note: Would have preferred Mims, but I can't ignore the wheels on Hamler. He was so impressive vs. Michigan last season. Have to figure he'll produce. – VC
Baltimore Ravens: Patrick Queen – LB – LSU
The Ravens are stacked on the defensive line. Now it's time to find the next signal caller on the defense.
Tennessee Titans: Jeff Gladney – CB – TCU
The Titans secondary is missing two key pieces in Logan Ryan and Tramaine Brock. They don't have much money to sign a corner, insert Jeff Gladney.
Green Bay Packers: Denzil Mims – WR – Baylor
Davante Adams can't continue to carry the load for the Packers. Denzil Mims is a big receiver who is excellent on fade routes and we all know how much Aaron Rodgers loves running those types of plays.
*Editor's Note: Mims and Adams?! HOW MUCH HELP DOES RODGERS NEED?! Great pick for the Pack – VC
San Francisco 49ers: Neville Gallimore – DL – Oklahoma
Shocking move by the 49ers to ship away DeForest Buckner, but it always comes down to money. Neville Gallimore is certainly a cheaper option than Buckner.
Kansas City Chiefs: Cesar Ruiz – Center – Michigan
Andy Reid loves drafting lineman in the first round and the offensive line in Kansas City could use some youth. Ruiz could step in on day 1 and be the starting center.